Coaster unveils rebranding, creates 3 sub-brands
Posted by
Thomas Russell
on January 28, 2019 / Posted in FurnitureToday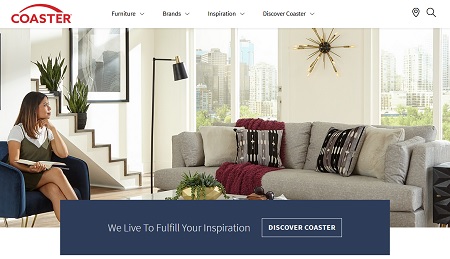 AT THE MARKET — Full-line resource Coaster Company of America unveiled a major rebranding here on Sunday that creates three new sub-brands aimed at specific segments of the market.
In addition, the company has created a new logo, a new website and a showroom redesign here that ties in with the branding initiative.
The three sub-brands cover products throughout the line, including upholstery, bedroom and dining room, occasional and accent furniture as well as youth bedroom, home office, bar furniture and lighting and mirrors. The goal is to offer a comprehensive and meaningful menu of options to a wide swath of consumers.
Targeted retail price points were not available at press time.
CoasterEveryday offers product to budget conscious consumers, featuring product at starting price points, while CoasterEssence is a line of more upscale furniture targeted towards younger GenX and Millennial consumers.